Website Design & Maintenance
We provide
website design, updates, remodels, and website maintenance.
When it comes to smaller jobs, like a one or two page site or minor updates, our labor rate is $94 per hour. Additionally, for our residential clients with personal (non-business) sites, we offer a discount of $10 per hour off our standard labor rate for Senior Citizens (65 & older) and for UC Davis students with a valid Student ID card.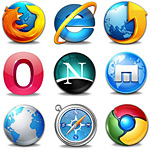 For larger jobs, such as an entire new site or major redesign, where the project will be stretched over a number of days or weeks, we look at the whole project and arrive at an amount that is consistent with the number of labor hours it will take to do the work, and we have the discretion to make an adjustment to that based on the time frame involved. The longer time there is to do the work (which enables us to take care of day to day repairs, emergencies, etc.), the more of an adjustment we can make to the quote. For specialty database, custom artwork, ecommerce, or highly specialized or esoteric functionality, we have some talented people we work with, and they would provide their own quote for any specialized work that needs to be done.
For a look at some of the websites we have worked on, head on over to our
Portfolio & Gallery
page. You can click on thumbnail images to see larger versions in a very cool "lightbox mode" (you could even have something like that on
your own
site, too).
If you will require something in a very short timeframe, please let us know a few days in advance (if possible) when scheduling your appointment, so that the best preparation can be made to have everything necessary on hand at the time of service. Thanks.

Remember, when they ask you who helped you with
ANY
of your computer needs... just tell them "My
Brother
Steve did!"
Now YOU have a brother in the computer business! ™