Computer Repairs & Hardware Installation
We provide
repairs and upgrades for most major computers, laptops, netbooks, and the like.
Our labor rate for repairs is $94 per hour. Additionally, for our residential clients, we offer a discount of $10 per hour off our standard labor rate for Senior Citizens (65 & older) and for UC Davis students with a valid Student ID card.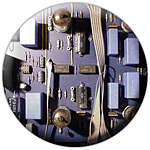 From failed components, to virus infections, spyware, and other malware, as well as application conflicts, corrupted or non-booting operating Systems, and other ailments of your system, we have the cure.
If you want to upgrade your system with more memory, a larger hard drive, a better graphics card, a Blu-ray player, a cup holder (
heyyyy
... how'd
that
get in there??) or whatever - we will find good prices on the parts your system needs to get it performing the way you want.
If you require us to come out for a broadband/internet setup, wireless network, or other setup or repair that may require additional parts or equipment, please let us know a few days in advance (if possible) when scheduling your home of office appointment, so that the best preparation can be made to have everything necessary on hand at the time of service. Thanks.

Remember, when they ask you who helped you with
ANY
of your computer needs... just tell them "My
Brother
Steve did!"
Now YOU have a brother in the computer business! ™