Print Layout & Design
We provide
print layout and design services for a number of types of projects.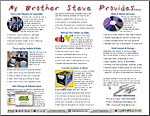 For most print jobs, we look at how much work is involved, and provide a quote which is loosly based on $94 per hour. Additionally, for our residential clients, we offer a discount of $10 per hour off our standard labor rate for Senior Citizens (65 & older) and for UC Davis students with a valid Student ID card.
If it can be printed, we can set it up. From logos (
see below
) to business cards, from menus to brochures, newsletters, coupons, ads, or whatever else you might imagine, we can set it up. For original artwork, we have some talented people we work with, and they would provide their own quote for any original artwork that needs to be created.

For a look at some of the print materials we have worked on, head on over to our
Portfolio & Gallery
page. You can click on thumbnail images to see larger versions in a very cool "lightbox mode" (you could even have something like that on
your own
site, too... hint, hint

).
Another service we offer is printing of brochures, business cards, and color prints. Design/setup is at our hourly rate, and the print rates are based per job, and depend on quantity and the type of stock they are being printed on, plus shipping.
For example, as of October of 2022, business cards printed on heavy 14pt card stock (either gloss coated or uncoated), full color front, no back, are $27.40 for 250, $38.50 for 500, $55.65 for 1000, $72.30 for 2500 (plus tax)**. Generally, it's only about $8 - $12 more to add B&W printing on the back. Ground shipping currently is between $9.65 to $16.20, depending on quantity (it only goes up a couple dollars for each larger quantity). Our standard hourly rate would apply for any design and/or setup you would need for the initial order, and just a small processing fee for any subsequent orders. File types would be a press-ready PDF file, a Photoshop PSD file, or PNG file, with a resolution of 350 dpi or greater.
**Please contact us for current prices, as sometimes printing prices might change and we wouldn't know until the next time we look up current prices.
If you will require something in a very short timeframe, please let us know a few days in advance (if possible) when scheduling your appointment, so that the best preparation can be made to have everything necessary on hand at the time of service. Thanks.

Remember, when they ask you who helped you with
ANY
of your computer needs... just tell them "My
Brother
Steve did!"
Now YOU have a brother in the computer business! ™