Serving Woodland, Davis, & Yolo County, Ca. (and beyond)
Welcome to My
Brother
Steve

.com Computer Services, Repairs &

Web Design

.
We're here to provide you with repairs, upgrades, spyware and virus removal, dead computer recovery, data transfer and recovery, setting up new systems, network and internet setup, website design, print layout services, tutoring, eBay and Craigslist auction assistance, and a whole host of other services.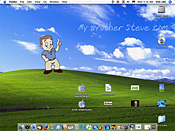 Our main navigation above is color coded by section to help you know where you are on the site. Below each section tab, in the colored coordinated navigation bar, are the links for each page in that section. In the gold column on the left, you will also see the name of the section you are in, with a list of the section's pages below it, to give you additional choices for navigating the site.
Oh Boy! Here we go again....
Fake anti-virus and spyware scanning apps, rigged websites, infected email attachments.... Now ransomeware, bogus messages that take over your computer and try to scare you into giving in to their demands, is one of the fastest growing types of system infections.
Well, I hate to be one of the bearers of bad news, but things just keep getting worse for Mac users out there in virus land. This time though, the bad guys are bringing it to a whole new level. In what may be a 'first of its kind' scenario, this secuity threat can actually break through the 'sandbox' walls, so to speak, and make its way onto a (VMware) virtual machine, by actively searching out virtual machines and copying itself onto them. This has traditionally been one of the big benefits of running virtual machines, in that they are separated from the host computer, so that a compromised virtual machine, running in its own little world, can't infect the host computer (although technically speaking this is doing the inverse of that process). The other part of this that has the potential to be a game changer is that this can also migrate onto Windows Mobile devices, which can then be synced with multiple PCs, further spreading the infection. Fortunately, at this time, iOS and Android devices appear not to be succeptible to infection.
The individual who discovered the flaw, and goes by the online name "pod2g", rates this flaw as "severe" and has found that the flaw allows an attacker to falsify (or spoof) the number that the SMS text message is coming from. This could lead the receiver into believing the message was coming from a friend, your bank, or virtually anyone the attacker wanted to impersonate.