To customize
a system, please
contact us
to discuss your requirements, ideas, and a time/price quote for your system.
Please be prepared to supply a detailed description of what you're wanting
/
needing when you call or email. If you know you need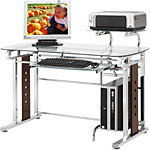 something extra high performance, or very custom (look & design-wise), but are not even sure where to begin looking, then call to set up an appointment for a consultation. The minimum investment of time up front in discovering what you really need and what it will take to make it a reality, will enable us to make sure the system you get is really the system that you truly wanted from the outset.
So what are you waiting for.... let's make it happen!

Remember, when they ask you who helped you with
ANY
of your computer needs... just tell them "My
Brother
Steve did!"
Now YOU have a brother in the computer business! ™