The Ice Cube compact system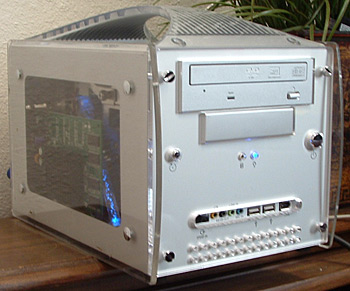 This system is about the size of a toaster and features a robust design with full power Intel or AMD processor, plenty of ram, configurable graphics, and plenty of ports to plug in peripherals. It's a super space saver, as well as a real eye catcher!
Not only that, but it's a space saver on your wallet, too, when you compare it with some of the high-end systems out there from other system builders and retailers (we just don't mark them up 220%, like
they
do)
!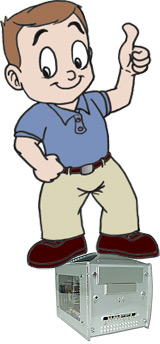 Your choice* of operating systems can be installed and configured, with our primary OS of choice being Windows 7.
We can also have applications pre-installed for you and even move data over from another computer. The system has a detachable carrying handle, so you can take it with you on the road, or remove the handle so you can set a picture, speakers, or decoration on top. Have it configured with the CPU, ram, and hard drive that best fits YOUR budget, not ours. We'll help you maximize the power you get for the computing dollars you've set aside to work with.
Here are a few shots of this awesome system. Click on any one of the small images to see a larger picture. You can see how compact it is next to a standard mid-tower computer. Contact us if you're ready to have one configured for you.
Call or email us
with your configuration needs or questions and to get
a price quote. We look forward to hearing from you.
*Operating system must be currently available and installed hardware must support the chosen operating system.

Remember
, when they ask you who helped you with ANY of your computer needs... just tell them
"My Brother Steve did!"
Now
YOU
have a brother in the computer business!
™